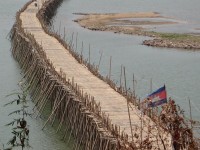 After 4 hours we reached Kampong Cham. With about 50.000 Population is one of the "Cities" Cambodia's. The best room we found in "Mekong Hotel". Everyone else looked at us, we were pretty descent.
Mekong in Kampong Cham, the first bridge was built. On the other side of the bridge is an old French lighthouse. In the evening, the locals carry on along the waterfront Line Dances, which looked very funny.
Dopey because the next day, unfortunately, the stomach did create a bit, I explored the city alone, and walked a bit along the banks of the Mekong. I went up to a bamboo bridge, each year must be made by hand again. Across the bridge is able to Mekong small island "Kho Paen". Also, mopeds and cars cross it.