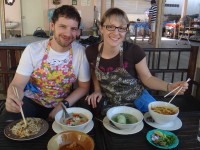 Today we have cooked us time itself our food. We were picked 9 o'clock at the guesthouse of our cooking teacher Wan-Nee and her husband MEO (Classic home cooking) and have 2 German girls (Maria and Anja) picked up on the road. First it went to local market (San PA Kog market). Here we have bought the ingredients for our meal, as e.g.. Squid, Meat, fresh coconut milk, Vegetables and mangoes. Also in the offer but not on our shopping list: Live frogs, Pig heads or cockroaches.
Packed with many bags full of fresh ingredients we drove then ca. 10 km from Chiang Mai to our Open-Air kitchen and swung our spoons and woks.
Our selected menu included:
Gaeng Kari (yellow curry paste and yellow curry)
Gaeng Massaman (Massaman curry paste and Massaman Curry)
Moo death Kratiam Prigtai (fried pork with garlic and pepper)
Pad Wun Sen (Glass noodles with vegetables)
Pad Thai (Fried noodles with egg, Tofu, Chicken)
Khao SOI (Chiang Mai noodle soup)
Tom Kha Gai (Coconut milk soup with chicken and Galangal)
Tom Chued Taeng GWA (Cucumber stuffed with minced meat in soup)
SOM TAM (Papaya salad)
Yam Pla Muek (spicy squid salad)
POH PIA (Vegetable spring rolls)
Khao niew ma muang (Glutinous rice with coconut and mango)
Each of us has cooked six dishes. After two courts has been eaten and then the same from the front. After the 3. We were already pretty full Court, ball lining at the end of the cooking course. But everything was very tasty.
In the evening we again met Marianne and Tamara and plastered the rest together from our self cooked food.