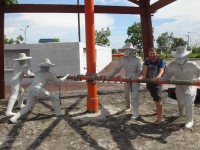 By air, it went today from Kuching to Miri. The only newly opened Guesthouse MyHomestay we moved into a cozy room, which we had for the next 4 days at home.
Miri, with 300.000 Population of one of the larger cities of Borneo, located in the northeast of the state of Sarawak, and is the center of the oil industry in Malaysia. Oil is extracted and processed here since 1910. In January 2013, a new oil field near Miri was only discovered again. One of the few attractions is the "Grand Old Lady", Malaysia's first oil well. By taxi, we drove to Canada Hill, where the old rig is issued and which includes the Petroleum Museum. Unfortunately, we were at the museum doors closed, as it is renovated since May. But neither knew someone from the Guesthouse, even the taxi driver. After a few photos from the oil well and a quick glance over Miri therefore we also went back already.
The days we spent quietly in Miri: Select and edit photos, Bring your blog up to date and plan future directions…
We thought about flying to Mulu National Park in the, since this is one of the best parks in Southeast Asia should be. Unfortunately, it was not so easy with the accommodation search, since the few rooms are often booked well in advance. We had then but still lucky to find a room at short notice and booked the flight to Mulu. In Mulu there was also a reunion with our friend Claudius from Basel.