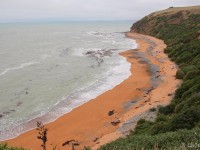 Dunedin is a university town on the east coast of New Zealand's South Island. On the way there we watched Māori rock art and the Elephant Rocks at, these are huge stones in the middle of a sheep pasture. From there we drove on to the historic town of Oamaru with many old beautiful buildings.
At Bushy Beach near Omaru we stopped at the yellow-eyed penguins to see. They are very shy and usually occur only in the evening ashore to feed their young. The penguins we have not seen, but see seals for. They lay lazily on the beach.
In Dunedin is located according to the Guinness Book of Records, the steepest street in the world inhabited. The 350m long Baldwin Street has or has an inclination angle of 19 °. 35%. We are again highly- und wieder runtergelaufen und hatten somit unser Sportprogramm für den Tag erledigt 😉 Nach einem Spaziergang durch Dunedin fuhren wir im Regen auf die nahe gelegene Otago Halbinsel. Here live a royal albatross colony, quite a lot of seagulls, See seals and penguins. We were lucky and saw all these animals, also a small penguin in its nest. On the way back through the mountains it ended up being so foggy, that we could see nothing of the surroundings with green hills and pastures. The further we drove, the better was the weather and the small town of Balclutha seemed then again the sun. Here we stayed the next two nights at a small campsite.