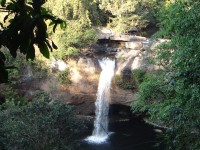 Kao Yai was the first National Park in Thailand and it was opened in September 1962. Since the 14. July 2005, he is on the list of world culture- and the UNESCO heritage.
Our jungle tour started at 7 A.m.. This time we were eight of us plus our guide Arnon. Julie and Guillaume were back again, 2 Babes (Tamara and Marianne), and 2 Dutch (Ingrid and Herbert).
Right at the beginning, we made a stop at a beautiful viewpoint over the Valley, where a horde of just played monkey. There we got special "socks" to protect against ticks and leeches. Then it went further into the National Park and we started our over 8 km long trek through dense and pristine jungle. We fought us through the thicket, balanced over fallen trees and crossed streams. It went off ever again very steep and down. Luckily we had our hiking boots, because it was a fairly strenuous hike. Our guide asked us to be silent, to see as many animals. Right at the beginning we heard gibbons and our guide showed us all up in the trees. The black and the white Gibbon apparently had a discussion. In addition, we discovered hornbills, a green tree snake, Sambar Deer, Macaques and finally even an elephant at the edge of the forest.
In the meantime, we arrived at a beautiful waterfall, where we could cool down. Also to the Huew Suwat waterfall, is known from the movie "The Beach", have we migrated.
On the way back it was then still a tasty "Leo" Beer from the kiosk on the way. In the evening we sat together yet comfortable with Julie and Guillaume. The next day we relaxed a bit and planned our next stations.