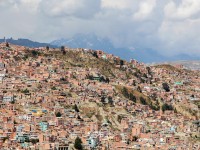 After 4 days in Amazonas-Regenwald could not be greater the contrast for us. Welcome back to the urban jungle! From 200 we flew in 40 minutes to ca. 4000m above sea level and spent the next few days back in La Paz in Rendezvous Hotel. We wanted to learn more of the city, so they made a "Free City Tour". The two guides told us lots of interesting things about La Paz and its inhabitants. For example, the typical hats Cholitas, Bolivian women, that look like a melon. Depending on how the hat is worn on the head means it, that the women married (straight on the head) suspect free (obliquely) are. The hats cost up to $ 1,000! What was even noticed us, are the gold teeth framed some Bolivians / inside. Who has money available, the can make gold teeth or all teeth with gold edging. We have seen only here in Bolivia.
A special feature of La Paz is the so-called witches market. There are things for special ceremonies and events. For example, colorful powders such as "follow me" powder around his swarm of them to "convince", that you are the right person. You have to sprinkle on those and then the spell affects even just behind the back. Wer's believes ... Before the small shops and market stalls hang many dried llama fetuses, used for rituals. Before a new house is built, a sacrifice must be made namely, so that the house is blessed. For this purpose, the Bolivians take llama fetuses. Depending on the size of the house but sometimes even greater sacrifices must be provided. It is said, that in a high-rise even human sacrifice must be provided! This can, for example, a drunk from a pub be, which one fills up it is so long unconscious and remembers nothing more. He is then buried alive and poured the foundation of the house on it ... A strange and very macabre history! Whether this is still the case today, well no one knows really.
The other hand, quite harmless fruit- and vegetable market we visited during the city tour to be a short visit and we could see a small selection of over 4000 varieties of potatoes there. Of small, elongated, purple potatoes to large, round, white tubers have been here during the great potato purchase spoiled for choice. Behind the Märktständen sat Cholitas in their typical clothing, ie with several colorful skirts above the other, making them look pretty "round". But this in turn is also a symbol of fertility.
We spent the evening at dinner in a small Vietnamese restaurant. Since many beautiful memories came right back up our 10 months in Southeast Asia…
The following day we took a bus ride to the Valle de la Luna, I told dem. It is located a few kilometers from La Paz and consists of bizarre rock formations. Although we were not here, far away from La Paz saw the landscape completely different from, almost like on the moon.
Having a 3-day tour of the Salar de Uyuni have made, we went back again for two nights to La Paz. Unfortunately, not much time remained to us before we left Bolivia and thus South America. Our last day we spent time in the city and strolled through the narrow streets. The Coca Museum was also on our map and the visit there was very interesting. Coca can be grown only in certain areas. The plant itself is not dangerous at all, only by mixing with chemical substances, who come from industrialized countries, created the drug cocaine. 50% of the world's cocaine use to go to the USA! In the evening we packed the penultimate time the backpacks for our last leg …