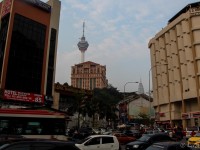 After almost exactly 4 weeks in Borneo, we went back to Kuala Lumpur. We spent three nights in we know Phoenix Guest House. A day later, Debbie and Yves came to KL. After dinner the four of us walked together to the Petronas Towers and later met up with Shasha and Jennifer. Pub Street in the evening we were comfortable.
The next day was shopping on the program. As soon Dopey is working in Singapore for a few weeks, he needed for some new clothes. Flip-flops and shorts will probably arrive not as good at customer. So we went to the mall and we were also quickly found. KL is a shopping paradise. You just need more space in your backpack ...
Across the street from our guesthouse was a Chinese temple and due to a public holiday in honor of Buddha there was a special ceremony. Everything was shrouded in the smoke of incense. Men in traditional dress moving to different rhythms and were in a trance. It came to us as before as if some of the participants have been drugged. They have beaten with whips on the ground to drive away evil spirits. A man was completely in trance: He was sitting at a table, made circular motions all the time and has beaten her head on the stone table top until he bled. That was a very strange spectacle. In addition, there was also a soothsayer, where you could ask questions about their own future. But we did not know anything about our future.
On Friday and Yves was also 30. Birthday and we wanted to celebrate. We went again in the evening in the pub street around the corner in a bar. After birthday cake and a few beers we went another round on the dance floor. Yves Debbie and we had to say goodbye but, because for both the holiday was over, and the next day they flew back to Belgium. Before we went along with Shasha to her family in Melaka, we looked still one of the largest shopping centers in. Berjaya Times Square Shopping Center, a huge amusement park is next to the many shops also housed. A roller coaster at the 5. Floor of a shopping center to see is impressive.