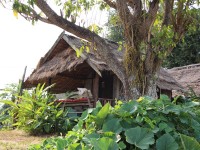 We went to our next hotel in Sangkhom today has nearly 3 hours with an old beat-up bus. When air conditioning is available in these buses large fans on the ceiling and the doors remain open all the time. With gentle slopes our bus had to fight quite a bit. He has managed to luck and we arrived well. Everyone on the bus were trying very hard to help us, as we again times did not know where we need to get off. We have asked, but unfortunately, the people were non-English. An older couple has talked the whole time in Thai on us. We have experienced here often, that people ask someone else if they themselves have no idea and so is always a small Assembly and would help with all. The bus driver told us directly in front of our property at "Bouys guesthouse "deposed. So we were lucky and had to look no.
A wooden bridge over a small tributary of the Mekong River leads to a small island with our Bambushüttchen, Hammock before and the two meter next to the Mekong River. We had a super views of the river and the opposite Lao island. Our Austrian neighbour said, There is here a beautiful sunrises.
Feels like a thousand valves have awakened us the next morning with her "Kickerikiee". We have never heard such a thing. Unfortunately it was raining and there was no Sunrise. After breakfast was still no Wetterbeserung in sight and even the weather forecast predicted anything good for this day. So this is how wars with hammock and sunshine. In the afternoon, Britney from Nong Khai came behind hergereist and we have Mrs. together. Toeys (our guest house mother) try homemade delicacies. In the meantime we have looked again, If it's not just raining in our hut. The roof was actually pretty leaky. But it was all dry.