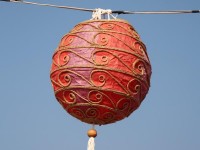 Today we have let calm go there and spent the morning on our terrace overlooking the Mekong River. In the afternoon, we are dawdling a bit by Nong Khai and looked at the "Indo-China market". Many things that are sold here come from China and Viet Nam. Colorful lanterns are hung everywhere along the waterfront.
In the evening we ate with Marianne and Tamara in a small food stall next to the Mekong River. There was Tom Yam Pla (a sour spicy soup with much lemon grass and fish), Tom Kaa (Coconut soup with vegetables) and fresh papaya juice.
The next morning we are cycling to the sculpture park "Sala KEO Kou" Park. It went first along the Mekong River, passing a sunk Chedi and then across to Nong Khai to the Park. The sculptures (including many Buddha figures) are enormous and the Park is very impressive.
Then we went to the Yom m Beach, It is located directly on the "friendship bridge". The bridge linking Thailand with Laos and is the first international connection across the River since 1994. Swim at the Beach the locals during the dry season the Mekong. Unfortunately, no one was in the brown waters and on the beach to see. The season is probably only for a week. So are we just a bit along the shore come on and shut due to the heat soon back to our guesthouse.
In the evening, it was in our guesthouse restaurant an excellent Tom Yam Pla soup and chicken in Orange sauce. Sehr lecker 🙂
The next day we have allowed a massage: CY a neck, Shoulder- and one back massage and I traditional Thai massage. Pressure on various points of the energy is used in two massages. The pressure was sometimes quite painful. I have even a bruise in the middle of the sole of the foot. Did not know, You can have as bruises.
We have the evening on the boat bar together with Tamara, Marianne and Britney comfortably relax.