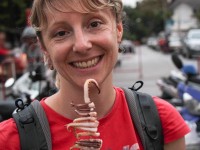 The bus was full of tourists to Chiang Mai. The bus before we were mostly single tourists. For us it should not go but still to Chiang Mai, We have inserted made a stop in Lampang. The trip took 3 hours of Sukhothai.
The Centre of the timber merchant was in Lampang earlier. Today, still splendid teak wood houses are in place to see. The horse-drawn carriages are another special feature, that were introduced here over 100 years ago by Europeans as a means of transport.
We had a room in advance at the guesthouse"R Lampang"booked. It was very small, but this nice cozy.
The afternoon we have spent Wang on the little river to walk along. The river that appear to be uninhabitable houses, It lives but still someone inside. On the other side of the River were then beautiful teak wood houses.
On Saturday and Sunday, blocked a road parallel to the river for the transport and organized a "night market". Then all Lampang on the legs and it joins a food booth at the next. Dresses, Jewelry and much more. is sold.
We have grilled squid on a stick and fried grasshoppers (tastes like salty chips) enjoy.