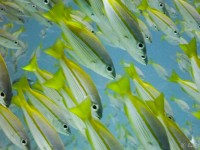 Only during our trip we have ever heard for the first time from Raja Ampat. And the more we heard about, the greater our expectations were also, because other people swarmed the only way of. Onto Kanawa then told us even Rune and Kim and Marko and Journey of their diving experiences in Raja Ampat and we looked forward to it more and more. And as much as we can already tell: Our expectations were not disappointed.
Raja Ampat is an archipelago in New Guinea / West Papua and consists of over 1500 islands and islets. It is considered the most diverse coral reef system in the world. As Raja Ampat is very secluded, is about the nature and almost untouched under water. Over 1500 fish- and 500 coral species have been recorded here.
We spent 10 days on the island of Gam in Biodiversity Eco Resort. A beach like in a picture book waiting for us there. But first, time for arrival, which was quite long and tiring.
Early in the morning we flew from Labuan Bajo on Flores directly back to Denpasar in Bali. At noon we went from there to Jakarta, where we had to wait until late evening to catch our flight to Makassar. We spent our time in a coffee shop and an older German gentleman, who sat next to us, spoke to us suddenly and told, that he gives seminars for future millionaires. He introduced himself to us as Franz Bader Elmar ago. As a young man he went to America to seek his fortune there and apparently had success. In Bali he is building the largest hotel resort. He told, that he has survived three plane crashes and met others. Bill Cosby, Ronald Reagan and Arnold Schwarzenegger, with whom he is still friends today (He also showed us photos). In two days you can learn how to do it in his workshop creates a millionaire. He gave us his contact, let's see when we login to the workshop… 😉
Middle of the night we arrived in Makassar pretty tired and had to change here again. The next morning we finally arrived in Sorong, the starting point for the onward journey to Raja Ampat. In the afternoon we continued our journey then continues by ferry. Since Muslim holiday was, only drove the slow ferry. But we had a little bunk with two beds for us and were thus able to catch a few hours sleep. In the evening we reached the harbor in Waisai and could directly from the ferry in a small boat switch, that brought us together with 8 3 mattresses and pillows to the island of Gam. The long journey and the hardships but had been worth. On the beach were waiting for Rey and Patricia, the two South American Spanish owners of small resorts. It consists of only 4 beachfront bungalows and we immediately felt like a family.
Although our bungalow was simple but absolutely beautiful. It was only in the evening for a few hours of electricity and no internet. But that has us so well-liked. And the bulk shower we would have liked at home in our bathroom. Like us almost better than a proper shower.
Was always eaten together at a large table and the food, a mixture of Spanish-Indonesian, was just delicious. For example, tuna fish in spicy sauce, fried bananas, Papaya in Kokosmilch, Curry… mmhhh. We had probably the freshest fish of our lives, bought directly from the fishing boat on the open sea immediately after diving. It's really fresh!
In the next few days turned everything around for us in diving. A total of 24 dives more we end up in our log books and every time we were there at least an hour under water. We felt from time to time better and more experience, we were able to optimize our consumption of oxygen and enjoy the underwater world more. Patricia has all dives but always very well planned, so that we could use the time in the water as long as possible. Each dive was unique and time again we have seen really great stuff, For example, beautiful corals in different colors, It looked like a colorful underwater garden. We encountered huge schools of fish, large turtles and many sharks; Whitetip- and blacktip, a gray reef shark, a Walking Shark and many wobbegongs (Carpet Sharks). Seppel turned out to be our Wobbegong-discoverer. He looked under every crevice and in all the caves and quite often found these strange-looking sharks with their beards Frans. In almost every dive we could also see manta rays, but also manta rays and eagle rays sometimes attracted over. Seppel photos under water were also getting better. Overall, we have over 800 photos, because it was difficult for us to delete that! It was not simply an appropriate selection of pictures for the blog meet.
Most of the dives we made together with Alessandra from Brazil. She and her friend Omid are also currently on a world tour. In total we now have 57 dives. Our 50. Dive was by far the very best! At the "Sardine Reef" We met a group of about 20 buffalo head parrot fish, who were just feeding on coral. The animals were huge and we were right in the middle! Between them swam sharks, many other large fish, Shoals of smaller fish ... it was truly breathtaking! This is something we had never seen and we did not want to appear most like. Auch Patricia, was no longer a surprise out. That was for the four of us a very unique experience.
Seppel times and I were alone in the house reef diving, two. This was a new and exciting challenge for us, the much fun it was.
In the evening we were always totally broken into bed. As well as here we have not slept long. Early morning 5:30 we could see the sunrise from the bed, to sounds of the sea ... But we prefer you do not want to make even more jealous! 😉
When driving in the boat to various diving spots we have also seen a bit of the environment. The Raja Ampat islands are in contrast to the islands around Flores, where everything was very bare and without trees, very green and overgrown with jungle. In between are small sandy beaches and one would prefer to stop at each island.
Also, our last dive was special. Together with Anna and Richie (from Wales) we saw two dolphins. This very shy animals can be seen probably only very rarely when diving. They swam for a while about us and we were able to observe good. That was a nice end to our stay in Raja Ampat before it went back to the boat to ferry Waisai. One night we spent in Sorong and flew from here to Australia.
Actually, we would like to extend our stay at Patricia and Rey, But the flight to Perth, we had unfortunately already booked. Since Raja Ampat is really so incredibly beautiful and for us it was like being in paradise, we will be back for sure.
Thanks again to Pat and Rey for these great experiences!!!
This article assumes the Blog Parade "The most beautiful beaches of Southeast Asia" in part.