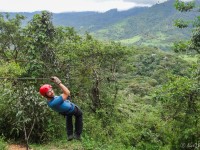 From Quito we went early in the morning in 2 hours by bus to Mindo, a small sleepy village in the so-called "Nebelwald". Mindo is surrounded by rainforest and this is often shrouded in mist and clouds, hence the name.
One room we had in the Biohostal had booked and after we parked our backpacks there, we wanted to do a tour in the rainforest. Sorry, but thick clouds moved on and it looked, as if it is going to rain heavily. So we planned to and made instead a chocolate tour in a small cafe with chocolate factory. It really is not bad ;-), especially if you love to eat chocolate as I. From the cocoa bean to the finished Schoki we heard all sorts about the manufacturing process and there were also several samples. Our plan amendment had ever so worth it, although the expected heavy rain but failed to.
The rainforest tour we made the next day in good weather. One of the attractions in Mindo are the zip lines, there are 13 steel cables crisscrossed and over the forest. On these ropes you will be hooked and "flies" because over the forest. It was really a lot of fun.
After that we went with an open Seilbahngondel a deep valley. The gondola was pretty fast and it was a bit shaky, but we were well received at the other end. From there we made together with Hanna from Kiel, we had met at the Zip Lining, a hike to the "Waterfalls", these are several small waterfalls. After a while it began to rain, rather, it poured with rain. We were completely soaked even though we wore our rain jackets. The gondola ride back we had then even during storms behind us. Down to the village but we took a "Taxi", d.h. on the back of a pick-up we drove back to Mindo and were looking forward to a hot shower.
Before we said goodbye to Mindo again we made a short detour to a hummingbird garden. Mindo is renowned for its bird life, for hundreds of bird species there are in the area and many of them are threatened with extinction. It was very interesting to watch the little birds, especially how insanely fast they flap their wings and remain on the spot.
For lunch we got back on a bus and drove back to Quito, order from there straight on to our next destination, of the City of Otavalo, to drive.