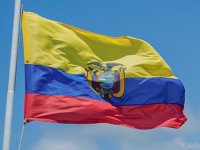 Over 3 weeks we were in Ecuador traveling and the highlight was of course the Galapagos Islands. The wildlife there is so unique and impressive. It is indeed as the richest country in the world, because in proportion to the size of the country on average are many types.
Unfortunately, we have not seen so much of the rest of the country, but what we have seen, We were very pleased. Nevertheless, we were able to some of the traditional culture, experience the typical clothing and eating.
The equator runs through the country, which it received its name. Ecuador is certainly one of the countries, we will like to visit again in the future.