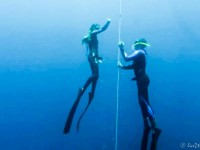 When you freedive in contrast to scuba dive without oxygen bottle. It is only the amount of air available for diving, one has inhaled. There are people, can even dive deeply about 100m. In Amed We first heard about freediving courses and were immediately enthusiastic about it. After a quick search on the internet we found a freediving school in Sanur. So we went from Lembongan with the boat on the way to Sanur.
First, however, we first had to find accommodation in Sanur. Unfortunately, the guest house, in which we were already 3 weeks ago, booked up. So we looked at some guesthouses, but most were not in our price range. Fortunately, however, always has someone in Indonesia a friend or a cousin who can help. So it was this time. The cousin of the employees in a guest house had opened a Homestay in June. Thus, we moved the next day to "Putri Homestay" a.
As Level 1 Freediving Course bei Fusion Freediving but held only on weekends, we had a few more days "free". We organized the flights to the next destination to Flores and Raja Ampat, our blog updated and prepared to talk to the theoretically Freediving ago. In fact, we were given a book and had to do some homework.
On Saturday it was ready and we started together with 4 other participants our course. First there were the coaches of Rose and Kev a theoretical introduction. This we found very good, da wir z.B. learned what to do with our bodies at greater depths ever happened, what triggers the breathing reflex and how we can hold your breath longer. We practiced also stop the air. On the first attempt I managed to almost 1:30 min.
After all the theory we went out to the beach. There we made yoga- and stretching exercises and learned the abdominal- breathing and chest. That was ever a very good preparation, because at first I could then 2:40 min later, and even 3:17 min hold your breath. Nicole managed to almost 2 min. I think it is but still room for improvement, So we will continue to practice. The most important is what we have learned but, you have to be relaxed.
In the afternoon we went for the first time in the water. We started in the pool to learn the proper swimming technique and trained how to react in emergency situations. Nico (his father is German and he grew up in Bali) we had a very good trainer, even though we both initially struggled Us.
The next day we went to Amed to practice in open and deep water. We did not know quite what we can expect there to. Again we started with stretching exercises and then it started. Rose looked after us this time.
On a rope, which was attached to a buoy, We started with the exercises we had learned previously in the pool. The rope was initially 10m long and it took me several attempts to reach the end. Especially the pressure balance and the correct and efficient swimming technique we practiced it. Nicole managed to dive up to 9m. Then a lunch break was announced and we could rest a little us. Right after lunch but we had to pass a theory test and then it went back into the water.
Nicole had a little sadly left the force, but she has really done very well. I had packed the ambition, Rose especially the rope always extended a piece. I only cracked the 15m mark and then the 21m. It was an incredible feeling, and even though it was so deep and I was down for a while, It was really very relaxing. Finally, we have performed a few security exercises at 10m depth before a very beautiful but also exhausting ended Sunday for us.
We stayed two more days in Sanur, goodbye to Lina and picked up my diving certificate. Then it went to the West Coast for us, nach Seminyak …