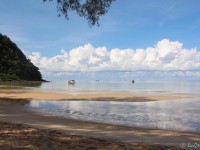 The island of Koh Rong Samloem with the Lazy Beach is located 2 hours by boat off the coast of Sihanoukville. Lazy Beach was recommended to us by several people. The name Lazy Beach (translated "Lazy beach") already sounds promising. There's just lounging announced.
The bungalows are situated in a beautiful bay surrounded by dense jungle and clear, turquoise blue waters of the Gulf of Thailand. We stayed for three days with bathing, snorkel and relax. While snorkeling we have many colorful fish, Crabs, Seen sea cucumbers and giant clams. Dopey has even discovered an octopus. Sorry, there was just before our first time snorkeling underwater camera broke, so we could take pictures of it.
On the last morning on the island we had just gotten up as a huge storm went off. The roof of our bungalow was not properly sealed, so that our bed was pitschenass. But luckily we had not even sleep in it. There was a beautiful rainbow over the sea.
The return trip was unfortunately not so pleasant, quite a swell and our boat was pretty flip side. But we came back well in Sihanoukville and spent another two nights before it went to Koh Kong.